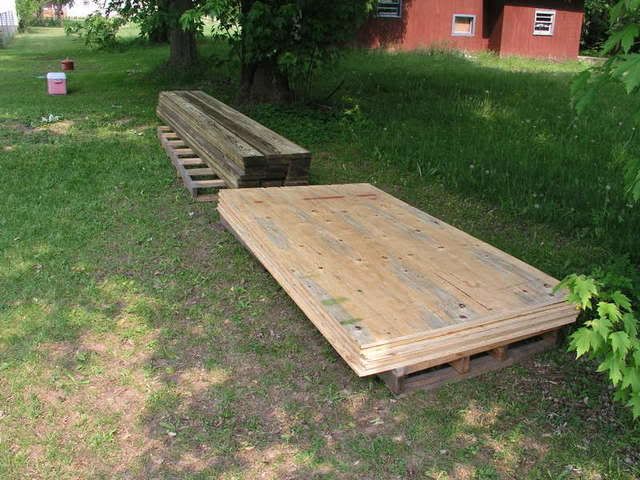 Well folks,
My checkbook is now lighter. I stopped down to my favorite lumber/hardware dealer in Bridgeport and about three hours later had these dropped off.
My plans are from
Barnplans.com
and while Dano designed these plans to work with 4x6 PT and to sit on grade, after consulting with the lumber yard, I decided that a little upgrade was in order because of the weight of my woodworking tools. SO, what you see there are 24 2x8x12's (and 4 2x8x8's which aren't visible in this shot) and 8 sheets of 3/4 CDX plywood. which will rest on these:
The 2x8's will be doubled up around the rim and then I'm going to use joist hangers for the inside joists, plus blocking between the joists every 4'
The piers will go over crushed stone, though honestly I think the piers will be enough to allow drainage beneath the shop (they're 10" tall) If we get more water than that, I've got bigger problems to deal with.
the two young men who delivered the lumber were amazingly quick at unloading. I managed to 'help' them on just a couple of the 8' joists, but then I just got out of the way. They were pulling 3 of the 2x8x12's off of their flatbed at a time. Now I'm no lightweight when it comest to moving stuff, but those kids were amazing.
closer view of the PT. That stuff is good and 'wet' still, and Heavy! The 8' boards are on the 'back' side from this vantage point, still on that pallet. Funny thing about those pallets, they were used to ship 'rollers' to my former job in Rome. I brought home 5 of those last year intending to salvage them for something. I think they're doing a fine job keeping the supplies out of the grass just as they are! I'll probably break one of them down this coming week to make some saw ponies (short sawhorses) for the project. That wood in the pallets is weathered after sitting outside in the elements all winter, and just good for 'utility' projects now. Not that weathered and 'utility' projects don't have their place.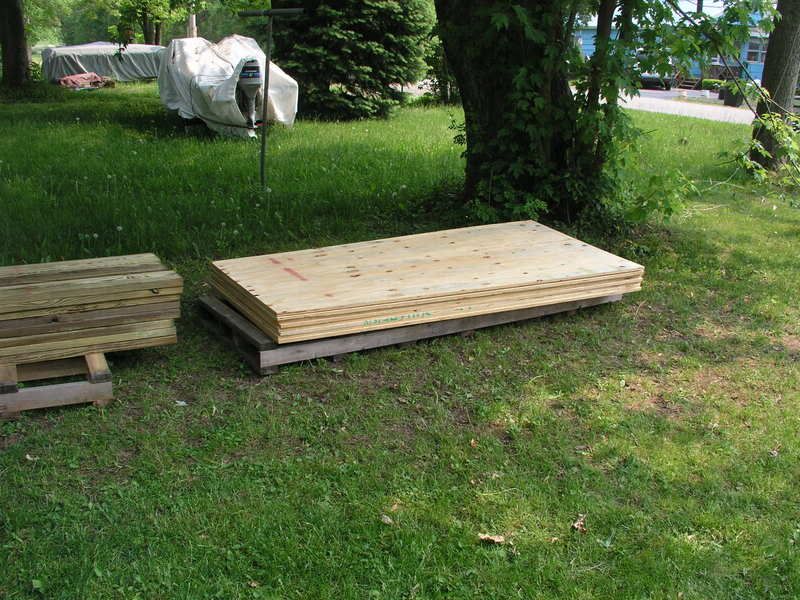 There is a close up of the CDX. As the budget allows, I would like to put down a better wood floor someday. For now, though that will more than suffice.
Blandings Hardware is a prime example of a vanishing breed, the small town shop where the owners are supportive and service is superb. The big box stores have their place, and for some things I'll stop in and pick them up. Lumber however is not one of them when I have such high quality service and excellent products available for a comparable price from Blandings. With perhaps one exception, everyone who works there knows me by name, how many staffers at the "Borg" (Big Orange Retail Giant) know their clients that well?
Not that staffers at the Borg are not nice folks too, but I'd rather keep my local yard in business. In about a week the rest of the lumber and sheet goods will be delivered (it will take me about that long before I will be ready for them.
Thanks for checking in!