Well Google and Blogger have conspired to make my poor befuddled memory erase my two other blogs. They still exist, but I don't remember which email I used to create them and they've been pretty well stagnant for quite awhile now. I'm going to toss them (other than links here:
I may try and resurrect them, but for now, Ill restart here.)
For my woodworking friends and family, here's a summary of Ned and woodworking:
I'm currently a hobbyist woodworker, I've been at this for just about 6 years now, and have a good start on a shop's full of tools. However I'm currently without a place to use them. I used to share a woodshop with my buddy woodnutjohn, but we couldn't afford the rising rent in the business incubator, so we split up our partnership a year ago.
That reduced my cash outflow to just rent on a storage unit, and pretty well zeroed my output in the woodworking department.
I'm a frequent (daily) member of several woodworking forums, links will be at the right side of the blog. I started out on woodnet several years ago, then found the WWA which is www.woodworking.org, somehow wound up over at Sawmill Creek and then Family Woodworking. I still visit all of those on occasion with FWW and the Creek getting most of my recent attention.
Each forum has its own distinct personality, and I've got friends on all of them. If you're reading this blog, likely you're one of them!
As for my new shop, here's what I've got in the works. I've wanted to build a small woodshop for several years now. Finally the stars have almost aligned and I've got barely enough funding scraped together to get the bulk of the building put up. I'm going to build a 12' x 20' barn. I got the plans from Barnplans.com. Dano and his staff there are super to deal with (ok, several years have gone by since I ordered my plans, but I expect I'll be in contact with him a lot more in the very near future.)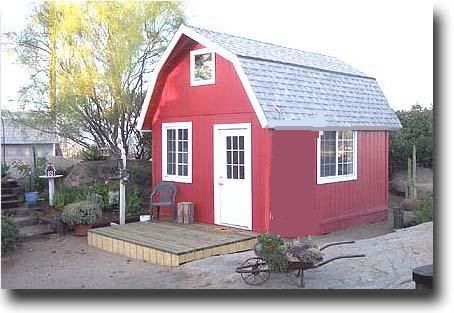 That's an image from barnplans, it shows a 12x16' minibarn. Mine will look something like that, except I'm going with 10' sidewalls for better space to sling lumber around inside. I'm also adding 4' to the long dimension and beefing up the floor joists after a discussion with my lumber supplier.
right now my tools and supplies look something like this:
They're stored in your typical roll door storage facility, which keeps the weather off of them, but doesn't do much as far as letting me Use them. My wife Lori and I ran the numbers and for not much more than the cost of that unit for a year and a half, I can build my basic small shop. Fully insulating and wiring etc... will be a bit more, but by next winter I hope to be shoveling a path out to the shop when I'm not on the road for my new job.
More on the job later for now I'm going to share thoughts on why such a small shop.
Just about 'everyone' whom I chat/discuss with on the forums agrees that 'bigger is better' when it comes to shops. Pure economics limits me to a cozy shop, I'm building as large as I can afford right now. This is my starter shop, and as such is not intended to be the 'shop of my dreams'. No, that's not right either, it IS going to be the shop of my dreams, because I've wanted to have my own woodworking space for almost thirty years now. I'm turning 43 later this summer, and I can just about pinpoint when I first got hooked on woodworking to visits to my cousins' farm down in Drumore PA when I was 13. My cousin Lew had half of a basement set up as a shop, combining both woodworking and metalworking tools into the neatest man cave I've ever been in. Lew was not a 'fine' woodworker, but if you ever wanted something Built, just ask him to do it and it would get done somehow. He passed away a few years ago, but I will be in his debt every day I can enjoy this hobby/avocation that I love so much.
My shop partner John is another Mentor whom I owe quite a bit to for opening up his shop to a rank amateur and 'passing the baton' to a new generation of woodworker. Without him, I would NOT be able to even consider building my own shop.
A few years back I was hanging out on on Woodnet and Woodworking.org (still hang out at the WWA, visit very occasionally on Woodnet), and I posted that I was woodworking in my side yard building I think it was a set of bunk beds for my kids. John pipes up that he lives nearby and would I like to get together for a cuppa Joe. We meet and have the first of far too many cups of coffee to count. Next thing I'm visiting his shop a few times. I'd never used a table saw before and he has this old classic craftsman saw set up in an old carriage house turned shop. It had power, a roof and mostly solid walls. Hot and cold running chipmunks and loads of charm. We spent a year and a half in there together, until we moved on to a commercial business incubator and shared that for two years. We're still buddies, but each have gone on to their own path woodworking wise.
Someday I hope to be able to do the same with another new woodworker and pay it forward like John did for me.
Lately I've been slinging sawdust with my good friend Grizzz in his garage shop. His real name is Jim, but even his wife calls him Grizzz. I'm certain you'll get to meet both John and Grizzz once construction actually starts in a week or so. More on both of them as the mood inspires me to share tales about them. (ha ha ha)
I hope you'll visit again, and leave comments/emails. More on what I'm building and why at a later time/date.