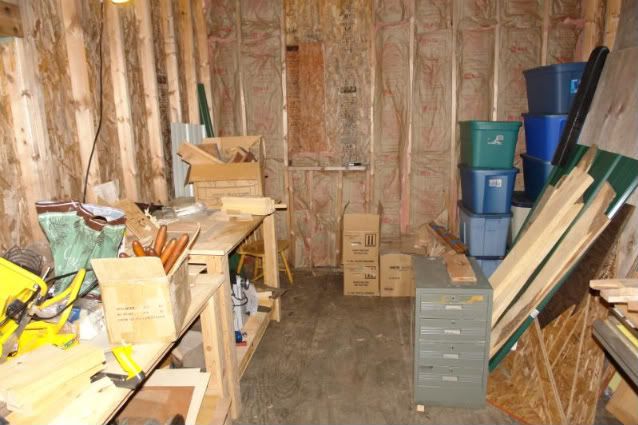 Well, at least the storage unit has a lot more elbow room in it, and the shop a lot less. I brought up the remainder of the wood from the unit, as well as several boxes of cut-offs and assorted old projects which I never got a chance to finish in the Madison Woodsmith shop.
I also did the small shop shuffle, moved everything away from the end wall there in the photo and popped open the insulation batt package. Emphasis on POP. I still have one whole batt left over plus a thin strip after I cut a couple of batts to fit under the window opening. I also had to slice three batts in half to get full coverage above the 8' long batts. Quick and easy to do, and minimal itchiness thanks to the paper backing.
One of the boxes fell apart on me (poor taping job when I packed in a hurry two plus years ago). Here is some of what I found in there. A few scrollsaw fretwork portraits and some chunks of Mahagony and Oak. I have three more entire boxes of short cutoffs. THankfully I now have a lathe, and I'll be able to use them for bowl blanks, and/or cutting boards etc...