Originally I was planning on stretching my dollar a bit, using some off-cuts from the 12' roof panels to cover the 'back' side of the shop. I basically underestimated when I picked up the panels last weekend. Dave talked me into buying three new panels so he can finish it off with it looking good all the way around the building.
I'm heading off to the Blue Borg in just a few minutes (Lowes for those who aren't familiar with the woodworking community's nickname (Home depot being the BORG Big Orange Retail Giant))

Last week we used Mark's truck, today I'm going to bring a blanket to put under the sheets to protect the roof when I strap them down to the roof of my truck . I figure that with maybe a couple of 2x4x10's from the borg will get them home safely. Normally I buy all my lumber from Blandings' Hardware in downtown Bridgeport, but this time I think I may just buy a few sticks from the Borg to help with the transportation.
Here's a few shots of the shop late last night (Took the family out to dinner after the guys wrapped things up last night, so no daylight shots)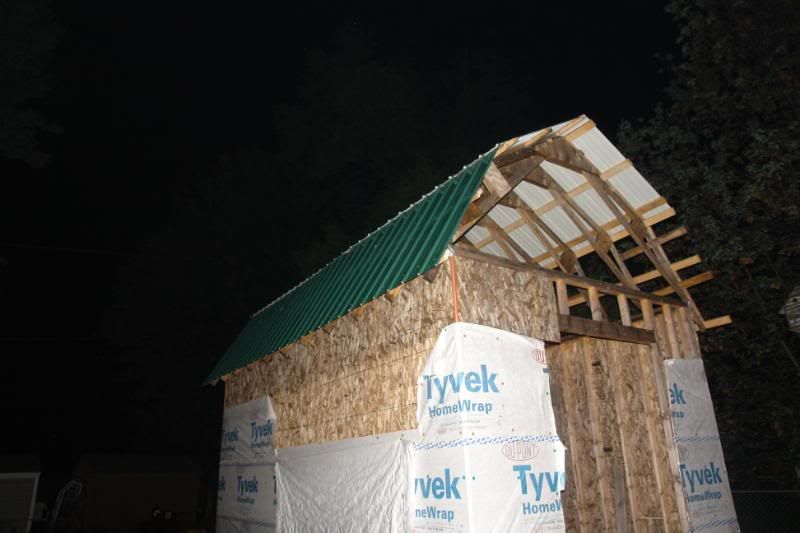 I'm SO happy about the progress made yesterday, especially this view:
That shows the view up into the loft from just inside the main doors.
Speaking of which, that is on my to do list this weekend, we have a wedding to attend today, but tomorrow I'm hoping to close in the end walls and work on building the two main doors. Which of course means I'll have to buy some hardware, like hinges, a lockset, etc...
Off to the Borg, more updates later today. (I hope)