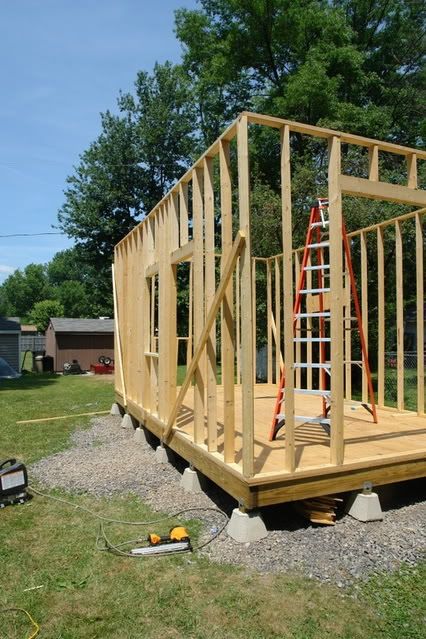 Boy have I got a lot to chat about.
when last we met, our intrepid hero had just finished framing half of the front wall of the shop...
The rear wall was originally framed as one unit, but since 20' lumber is hard to come by, I had to effectively put it up as two sub units. (funny thing when a nail tears out the board goes 'skriiitch' which I can attest is NOT a pleasant sound at all)
SO, on the front wall, I decided that two halves were better than one long wall which would no doubt go skriiitch again.
Adam and James helped with the lifting and so forth on this wall pretty cool huh? As you can see there will be a door and window on the front expanse, the big double doors will be for tools and large projects, and occasionally for ventilation and/or cleaning of the shop.
After getting that wall up, I cut and installed the top plate, which tied the whole shebang together. (or started to)
We borrowed a ladder from the fire house (thanks Lori!) and it sure did come in handy. I've since been loaned two 'little giant' ladders (one real and one clone) which are those talented flip/fold extension ladders. I Know the budget won't hold a real Little Giant, but the Gorilla ladder which is a clone of the little giant sure seems to work just as well, so I'm saving up for a 21' Gorilla sometime next month.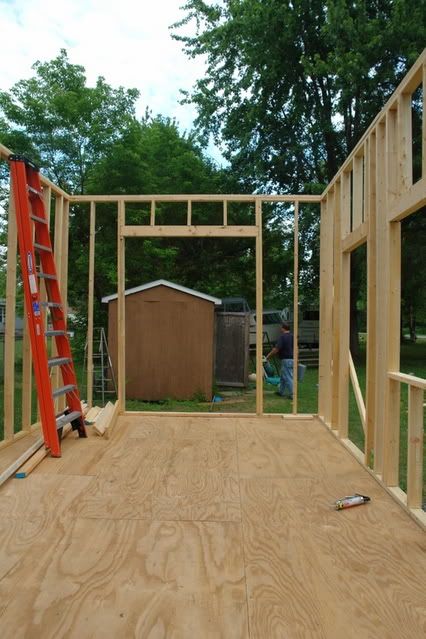 There is the view from the far wall looking back at the main door. It has been almost three weeks since things looked like that, what a nice view though, no?
By the end of the day, my left knee was complaining about the ladder work, so I pressed James into service finishing off nailing the top sill in place.
At this point, all three boys have helped build the shop, and actually today, Lori got involved as well, but that's for later in this post.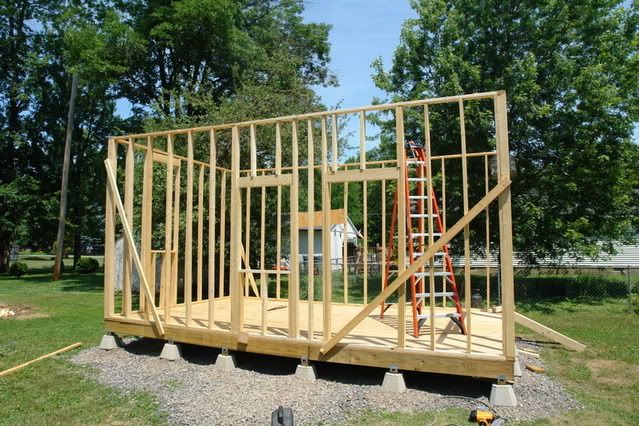 That just about wrapped up the weekend, and some time the next week, Grizz and I got this done: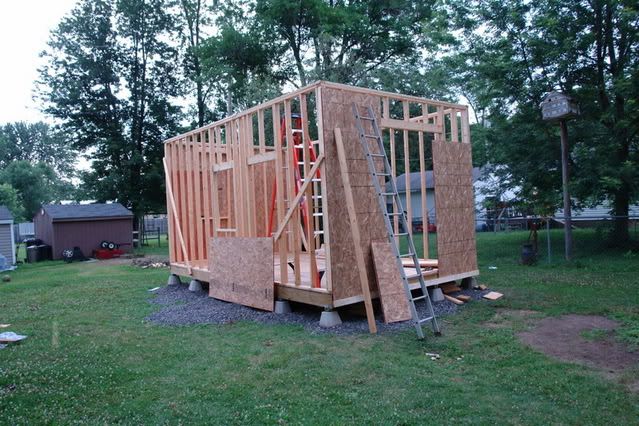 That's 5/8 osb sheeting. We manhandled that into place after screwing a level board into place to hold the sheets until we got them nailed off.
Thanks Grizz!
That spindly little ladder sure wasn't cutting it, so that's why My friend Mark loaned me his Gorilla and I asked Stu for his Little Giant.
Rain and a busy wrap up on my month at work ( for bonus purposes) meant that I didn't get a lot done until last weekend. I even took half a day and helped Grizz out with re-rocking his kitchen. It seems his wife and daughter did some of the demo on it while he was out working last week.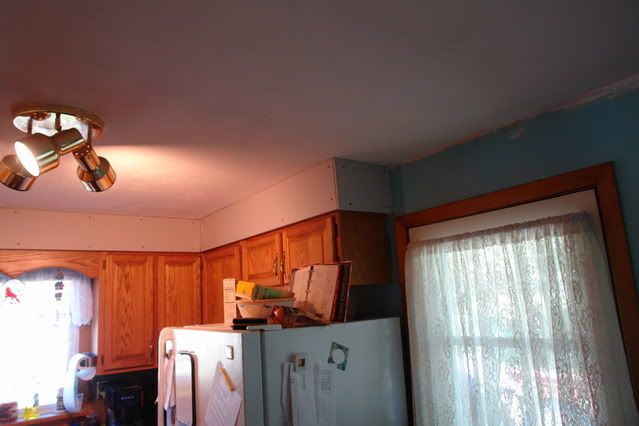 He called me Saturday morning, and by the time I left Saturday evening we had it looking like this:
ready to mud and then paint. I wonder how it turned out this week. Hmmmm
Before I scooted up to Fulton for Rock duty, I pressed James and Adam into duty for the long wall OSB. In about three hours we managed to get the last wall up, mostly without mishap, and Just as I ran out of nails for the nail gun.
Mark and I had finished the front wall the night before, and it looked something like this in the morning:
there was one sheet which needed a slight trim to fit, and we ran out of daylight before finishing that up. The boys and I eventually got the last wall up, which went very smoothly thanks to the two of them. I can't say how much I appreciate everyone's help on this project, Thanks guys!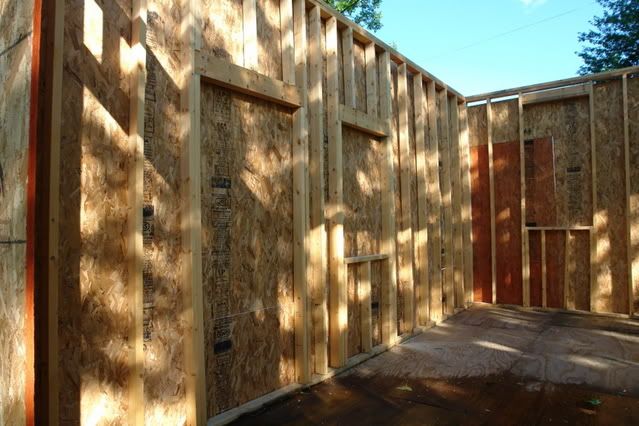 here's the inside view by the mid morning light. Starting to look like a building now!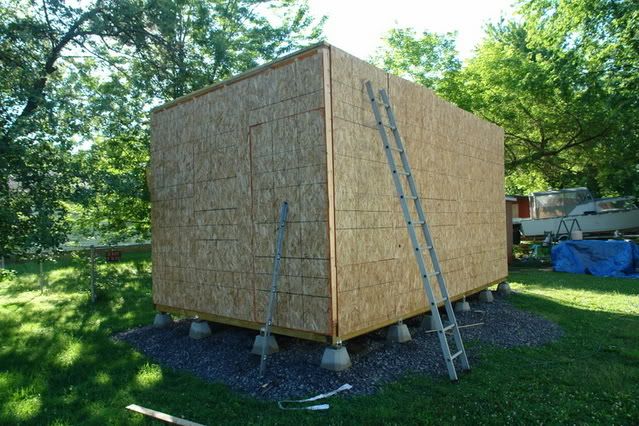 The boys and I took things from there: we first nailed up the 'strippers' as one framer wrote to me, once the short strips were installed the two boys would hold up the panel and I'd nail it off with the nail gun.
Occasionally I would hold the panel while they moved the ladder and the nail gun:
there's Mark's really snazzy ladder. Thanks again Mark, it sure has come in handy!
This is how things looked through the doorway by the end of the morning: I left the end wall panels 'wild' and cut them off last night after work.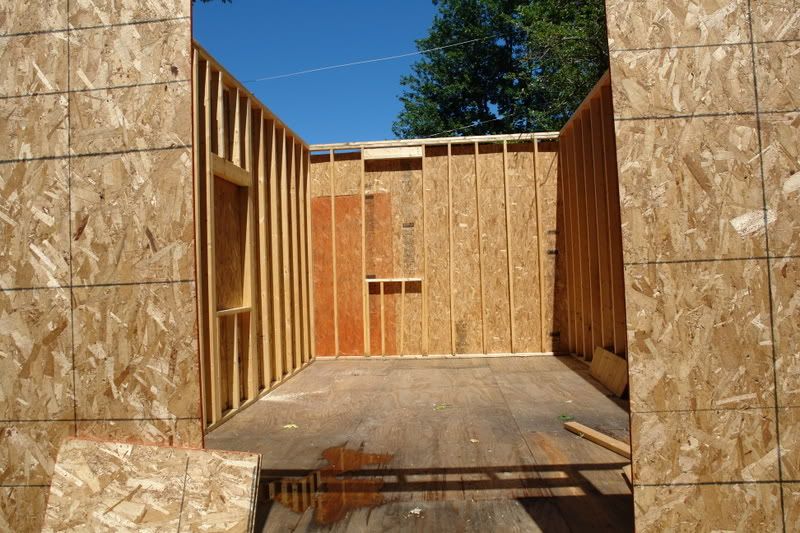 Man that sure does look nice! Still a long way to go, but I'm one major step closer to having the shop up.
Patrick had to inspect things too, I hate to say it, but I lost my temper at one point, and there is a hole to patch in the back wall. He wanted to see it, as his brothers though it was hilarious.
Sunday, Lori and I took the boys to the Syracuse Nationals car show. We had a ball, and I have loads of photos. There were about 10 '69 chevelles at the show. This rag-top was just gorgeous, having recently had a frame off restoration.
This combination is a local shop's pride and joy. Gotta love that pairing.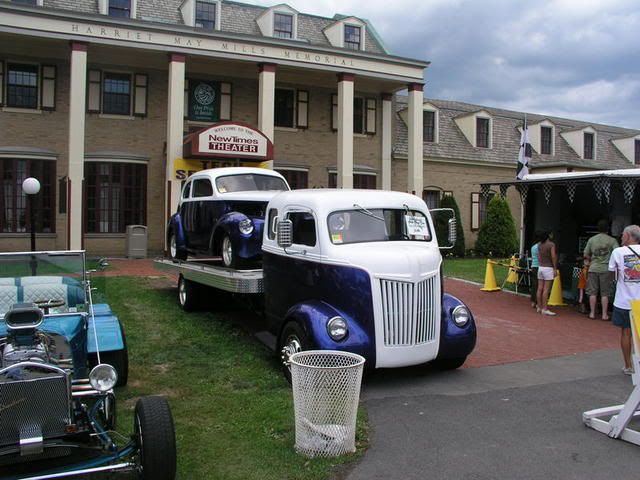 As I said, this past week had me very busy at work, and when I came home I just plopped down and didn't want to work on the shop much. Also, hanging tyvek is a two person job, and it was a lot easier with Lori's help today:
I think I need to buy one more roll of Tyvek, which will have to wait just a bit, as new eyeglasses ate into the budget yesterday. (Middle age, gotta love it! can you say Bifocals? Thanks to Brother Ben Franklin I will be able to see up closer better than I do now)
Lori and I snapped chalk lines last night, before dusk put an end to the evening.
Here it is after two laps around the building, which all in all went rather quickly. I did smash a couple of finger tips installing the plastic gasket-ed nails.
And promptly was reminded of Garner's law. Anything you injure will get hit at least three more times before it heals. Bill was a professional roofer for a LONG time, so I will bow to his wisdom and experience in this matter.
OW!
as you can see, dusk was approaching, so we put the ladders away and finished things up for the evening. The three tiers of tyvek are nailed off at the recommended spacing, and the seams are all taped off with house wrap tape from Lowes. Specialty product which I hope has some super formulation of glue, just seemed like blue and white packing tape to me, but what do I know?